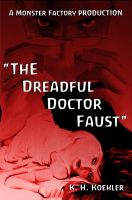 For those who have been asking, you can now get The Dreadful Doctor Faust in ebook format from all the usual suspects.
Listed a Top Book of 2010 by Literary Mayhem.
Praise for The Dreadful Doctor Faust:
"A tale that stands on its own with an underlying darkness that reaches deep into the soul and rips it out at the roots." — Famous Monsters of Filmland
"Recommended for fans of dark, gothic tales – both well told and fascinating." — Horror World
"Gory, pulpy fun." — Horror Fiction Review
"A love song to revenge and the ultimate body modification." — BookLove
Order the Ebook:
Review copies are also still available for reviewers. Please go to my contact page if you would like to receive one.